Intro
NOTE:  I wrote this blog in January 2018, some of the sources or exchanges referenced may not be as relevant or active anymore, at some point I will take the time to do a full update but for the most part this blog is still very much accurate. As of today Aug, 4th 2020 my recommended buys are the big 3 – (BTC, ETH, LTC) + OMG & LINK. But do your own research because I am not a financial advisor!
Ignore these ads saying don't buy bitcoin or ethereum on my page (I cant control them google does).
So first off let me just say I'm not a financial advisor or anything like that, take on what I say but always do your own research (tools for which I've provided below!) There is going to be quite a bit of reading to do, if that puts you off this isn't the game for you anyway to be honest. Also, the coins mentioned in the excerpt are just to drive traffic lol there are much better coins to invest in than ripple.
I've been trading cryptocurrencies for a short period of time and I've learnt a lot during that space of time and seen lots of opportunities to make some good money. If I had larger sums of capital to invest I would be doing quite well for myself now, unfortunately some of my 500%+ returns are on small investments of £40 or so but the first rule of the game is don't put in more than you are willing to lose and so that's what I did at the start and so should you.
There are going to be a lot of key terms mentioned that will sound like another language to some of you and I'm kinda rushing while doing this so there will be a few links to external sites to explain the basics or youtube vids.  I'm going to break this post down into sections so its easier to find out what you need to know.
I'll be honest with you, I'm not expert I'm fortunate to have the knowledge of some pretty sharp and clued up people to my disposal which has helped me too.
What are Bitcoins & Cryptocurrencies & Isn't It Too Late?
Bitcoin itself is a cryptocurrency and there are 100s, bitcoin has boomed and slumped and boomed again over the years since its arrival in 2009. It's not too late we are still in the early stages of this change. Think of it like this, how many people do you know that understand all of this stuff…now think of how many people you know that get how online banking or social media works… say 15 years ago I'm sure that was a small percentage compared to what it is now and look at its influence around the world today. Its the same for Crypto yes it would have been great to have been in on it from 9+ years ago but there is still a long way to go.
Where To Buy Bitcoin & Cryptocurrencies
Cryptocurrency exchanges are websites where you can buy, sell or exchange cryptocurrencies for other digital currency or traditional currency like US dollars, Pounds or Euro which we refer to as Fiat.
I'm speaking from a UK perspective here, so some of the sites mentioned for trading fiat may not apply to your country of residence, sorry but a quick google of "how to buy bitcoin in * insert country here* should do the do job.
Before you register to any exchanges I recommend using a new email address. I use Protonmail  – https://mail.protonmail.com/create/new?language=en. It has free accounts and paid ones with more features, the key component is that it is encrypted. No one can see your emails unlike with gmail (yes google can see your shit).
Once you are registered make sure to enable 2FA (see security section below)
Now, these are some exchanges which I use.
In exchange for all this free information, all I ask is that you use my referral codes when you sign up so I can get a lil change 🙂
Coinbase (Get $10 / £7 when you sign up with this link and buy more than $100 worth of crypto) – https://elseven.co.uk/coinbase
This is an exchange which lets you buy bitcoin, etheruem and litecoin using fiat ('real money' – $, £ & €) most other exchanges have way more coins but only accept bitcoin as a form of payment for them. So what I do is buy coin on here and then either store them in my offline wallet (will explain further below) if I just want to store them for the long term or I will send it to another trading exchange if I am looking to invest/trade other coins. I wouldn't advise keeping your coins on coinbase all exchanges and not 100% secure or can have downtime for whatever reason for time to time, when it's in my own wallet and not on an exchange I am in full control. Also when sending to other exchanges for the purpose of trading, even if I plan to spend bitcoin on that exchange. I would buy either ethereum or litecoin on coinbase/gdax (gdax is the advanced trading version of coinbase use google for more info) and then send that coin to whatever exchange and sell it immediately for bitcoin then use that bitcoin to get whatever I want to buy on there. Why? because they have cheaper transaction fees and move faster than bitcoin at the moment. See the Revolut section below for a guide on how to bypass coinbase fees.
Binance: https://www.binance.com/?ref=10798376
My Favourite Exchange and one of the best out there they also have a mobile app which works well. For iPhone users, it's not in the app store you have to get it via their website and follow the instructions there.
BitMex:  Trade Bitcoin and other cryptocurrencies with up to 100x leverage. Fast execution, low fees, Bitcoin futures and swaps. I'll be honest I'm haven't completely got my head around Bitmex but it is good for making money by anticipating the movement of crypto whether up or down, this video below explains better.
Register : https://www.bitmex.com/register/XC7ZJm

Kucoin: https://www.kucoin.com/#/?r=1gHN4 – Another good exchange with an app but like binance it's not on the app store for iOS
Bittrex.com – This exchange has lots of coins on there that are not listed on binance.
Revolut: https://goo.gl/vcuA9R – Helps making buying crypto cheaper, more info on how here – https://quickpenguin.net/revolut-faq/ (Also lets you buy Bitcoin, Ethereum and Litecoin now if your account is enabled but only to hold or sell, you cannot send it to another location at the moment, this could change soon though)
EDIT: Coinbase has now allowed connecting bank accounts so this process via Revolut is no longer necessarily the cheapest option, however Revolut is still a handy service to use in the crypto space.
Local Bitcoins: https://localbitcoins.com/?ch=i6gn – Buy bitcoins direct from other holders, peer to peer, no paper trail
Coin Exchange: https://www.coinexchange.io/?r=c401eb61
HitBTC https://hitbtc.com/?ref_id=5a099732260bb
Deribit: https://www.deribit.com/reg-7292.1420
Based on where you live you are liable to a tax called capital gains tax, just be aware of that. There's a list of places in this document that have info on crypto tax havens – https://drive.google.com/open?id=1u5E061KDp6qHmm3Mbc7buj3ToblaDGYzxAWFvdrVVlw
Security
In this game security is key. I already mentioned above using protonmail for email as its encrypted.
Another essential requirement is Two Factor Authentication aka 2FA and with authenticator codes, not SMS (hackers could compromise and redirect text messages to your number and get into your texts, bet you didn't know that)
I use Authy its similar to Google Authenticator but I prefer it to Google's because its linked to an account that has backups in the cloud, Google Authenticator only stores the keys on your phone so if you lose it, if you didn't backup the initial private key given to you when you registered it you will lose all your keys. If it all that sound like a different language just watch this video lol
I store my passwords and keys using Lastpass which has a mobile app and google chrome plugin also. – https://www.lastpass.com/
Wallets are where crypto currency is stored, coinbase gives you an individual wallet for all your coins eg. BTC wallet for Bitcoin, ETH wallet for ethereum. But like I said before I don't store my coins long term on exchange wallets. I have my own hardware wallet I use the Ledger Nano S – https://www.ledgerwallet.com/r/09f9 it can hold a variety of coins and regularly adds new ones its about €70 for one but its worth it if you are serious about investing. Alternatively, you can use wallets that the coins developer themselves have made available or paper wallets, the video below explains in more detail.
WARNING –  The supplier of the Ledger Nano S is based in France and their deliveries can take a while, do not let this tempt you from buying from another source such as ebay, there are scammers that sell compromised versions and can rob you for all your money!
This graphic below also goes into a bit more detail about security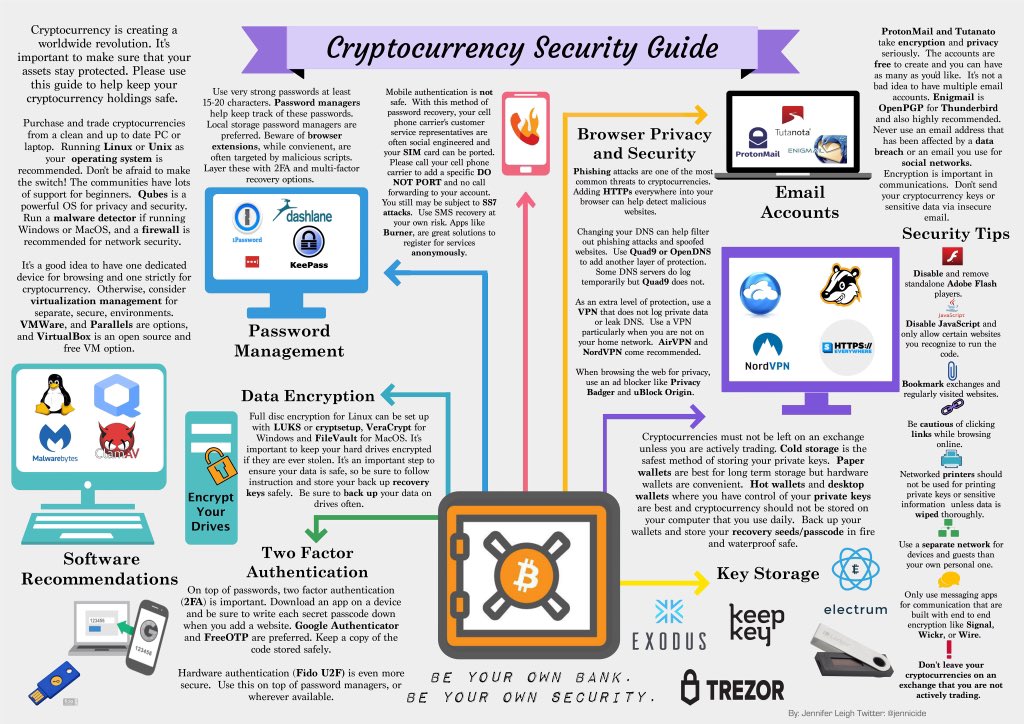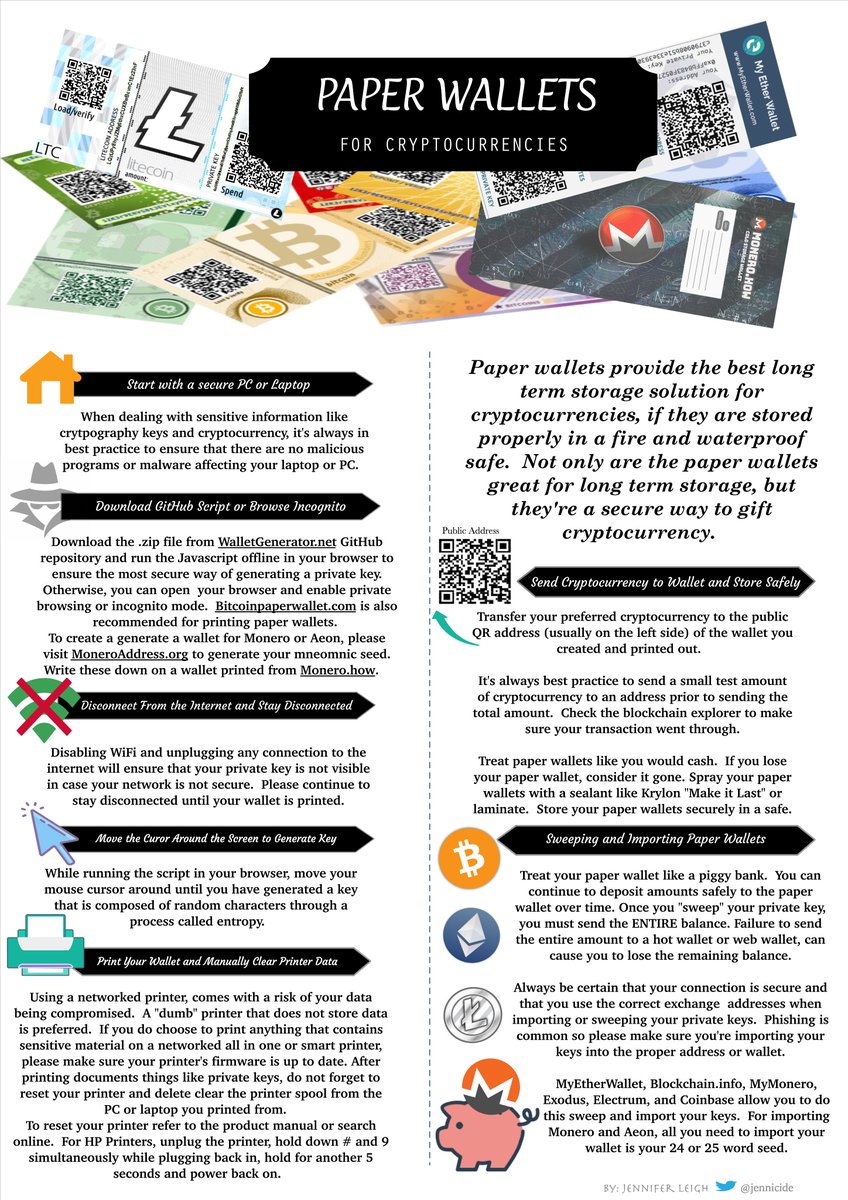 Tools & Data Sources
The best way to make money in this field is to learn learn learn and learn! These are the resources I use to get as much info as possible to find out what coins to buy when to buy, when to sell etc.
Telegram – Telegram is a messenger app that that most people use to communicate in the crypto world. Its similar to whatsapp, messages are encrypted and you can join multiple channels which are good for gettin the inside track on what to buy or sell.
Get it here : https://telegram.org/apps
Here are some channels I use
Bitcoin.tt – great community for sharing info on crypto, owe much of my profits to these guys
Noahs Ark  – Joined it yesterday, people make calls and share info here.
CryptoWhale – Robot with lots of functionality
Coindar – Alerts of crypto related events
Twitter – twitter.com/cryptobitcointt– same guys from the telegram channel give them a follow lots of info on their timeline
Medium – This platform is a good space to find crypto.. I recently joined, you can follow me and keep an eye on who im following https://medium.com/@lumos7
Traderview – Amazing website for reading charts, learning from other traders, tracking crypto on various markets etc. Traders even post their analysis on this site which you can then use to help make trades. This site isn't just for crypto either, forex, stock etc all broken down on there. Some exchanges even integrate the platform into their websites. They also have a mobile app.
Coinmarket Calendar – List of events that may or may not affect the price of a particular coin. Always worth checking.
Coinmarketcap – Probably the most visited website on my browser since I got into crypto. This is the mother of all crypto sites for staying in the loop of coin values, market caps, exchanges coins are listed on, the social media platforms related to a particular coin and even more. I check this site every day without fail.
IcoRating – See below for more info on what ICO's are, there are lots out there so its important to know which ones are worth investing in and which are a waste of time and this site has a rating system which does just that.
BitSocial – secret Crypto community launching soon
Investopedia – If the whole world of trading and investing is new to you, this site will be useful for understanding terminology and theory within this realm.
Blockfolio – This is an app I use to track the value of my portfolio in real time. You can track coins you don't hold either and also set alerts based on prices of coins.
Whats an ICO?
An ICO is a recently emerged concept of crowdfunding projects in the cryptocurrency and Blockchain industries.
ICO stands for Initial Coin Offering. It's an event, sometimes referred to as 'crowdsale', when a company releases its own cryptocurrency with a purpose of funding. It usually releases a certain number of crypto-tokens and then sells those tokens to its intended audience, most commonly in exchange for Bitcoins, but it can be fiat money as well.
More Info: https://cointelegraph.com/explained/ico-explained